AGEL is ...
AGEL is the most successful provider of healthcare in Central Europe. In the Czech Republic alone, AGEL currently operates twelve hospitals, a network of clinics, a network of pharmacies, laboratories, distribution companies and other specialised health facilities. Since 2006, AGEL has also been operating in Slovakia.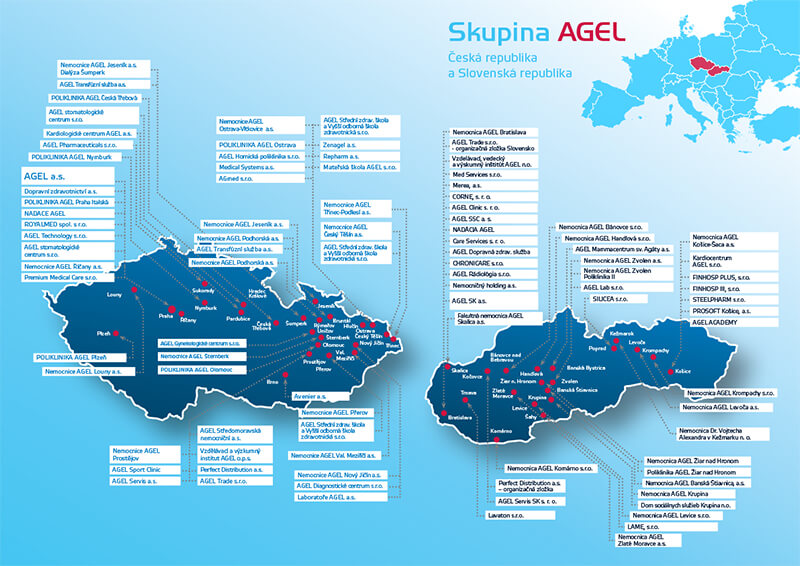 Map of medical and other companies of AGEL group (click for full-size map)
Quality of care and patient safety are the cornerstones on which the AGEL group stands. This is why the AGEL group does not only meet all statutory standards, but on top of them it has other processes in place to monitor the quality of care, such as external monitoring. In 2002, the Podlesí Hospital in Třinec became the first hospital in the Czech Republic which has undergone an external audit. At present, all AGEL hospitals hold prestigious accreditation certificates.
The AGEL group's health facilities provide state-of-the-art services and boast cutting-edge equipment. For instance, the Comprehensive Cancer Centre in Nový Jičín, the Stroke Centre at the Vítkovice Hospital in Ostrava or the Comprehensive Cardiovascular Centre at the Podlesí Hospital in Třinec have the statute of the centre of highly specialised care and are included in a special network of the Ministry of Health of the Czech Republic. With top-ranking treatment results and complexity of care, the interest of both domestic and international patients in AGEL's services is constantly growing.
With some 13,000 employees, the AGEL group is currently a sought-after employer offering its employees professional growth and an environment for quality and specialised professional care. All health facilities in the Group have accredited workplaces for the training of physicians and paramedical staff.
In the upcoming years, the AGEL group's interest is also to play an important role in the fields of science, research and innovation. Therefore, AGEL Educational and Research Institute is part of the group, which deals with science and research.
AGEL Foundation offers assistance to those who need it most and at the same time supports the interest in natural humanitarian assistance aimed at people who appeared in a difficult life situation.