AGEL is ...
AGEL is the most successful healthcare provider in Central Europe. In the Czech Republic alone, AGEL operates 11 hospitals, 6 health centers, a network of pharmacies, laboratories, and distribution companies, along with other specialized medical facilities. Since 2006, AGEL has also operated within the Slovak Republic.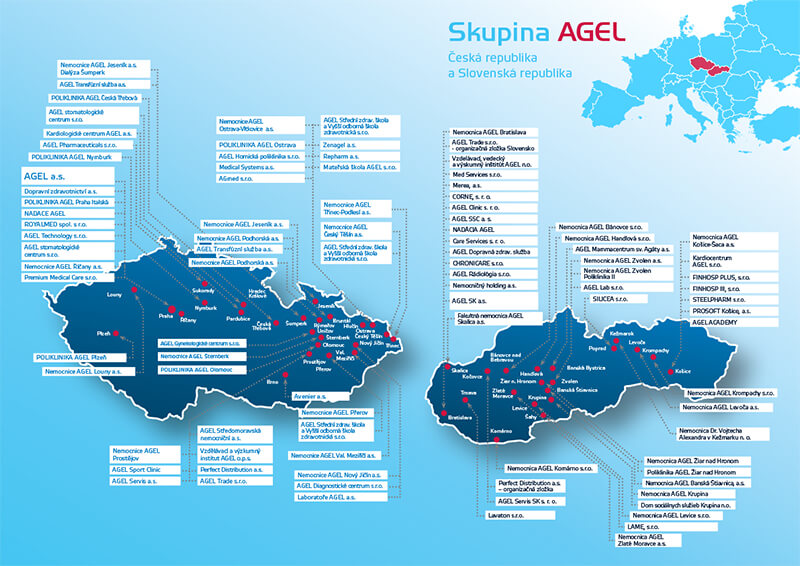 Map of medical and other companies of AGEL group (click for full-size map)
Every year, more than 170,000 patients and more than 2.5 millions outpatients are treated, cared for, and hospitalized in the care of the AGEL group. AGEL considers quality and safety standards of healthcare two basic pillars of society. For this reason, AGEL's team makes it a priority to not only meet all statutory health standards but to also pioneer additional processes aimed at raising health care standards above legal minimums, AGEL's progressive processes for external monitoring being just one example. It is in this way that Podlesí Hospital in Trinec became, in 2002, the first hospital in Czech Republic to subject itself to an external audit. At present, Trinec holds the most prestigious accreditation of all AGEL hospitals and serves as an example of AGEL's commitment to health and safety.
AGEL's medical facilities provide exceptional services and offer the latest in medical instrumentation. Our statute for highly specialized care is carried and supported by a network of care centers and agencies within the ministry of health that include the Oncological center in Ostrava and the Vitkovice hospital in Trinec.
With superior treatment results and a comprehensive administration of medical records, AGEL continues to experience increasing interest from both domestic and international patients.
With nearly 9000 employees, AGEL is a highly sought-after employer that offers its team opportunities for professional growth and the experience of working in an environment that promotes high standards of medical care and workplace professionalism. All medical facilities have accredited workplace training programs available for both doctors and paramedic staff.
The AGEL groups also plans, in the coming years, to play a significant role in the fields of science, research, and innovation. AGEL in this way also operates as an education and research institute in the fields of science and research.
The AGEL group also considers the needs of those with very few available resources, which is why in 2011 NADACI AGEL was established, AGEL's charity branch supporting individuals and associations who find themselves in difficult situations.